Zayed City Schools Wins MENA Social Infrastructure Deal of the Year
We are excited to announce that the Zayed City Schools PPP project, a partnership between the Abu Dhabi Department of Education and Knowledge (ADEK) and BESIX Plenary Education Properties Development (a consortium between BESIX and Plenary Group), was awarded the prestigious "MENA Social Infrastructure Deal of the Year" at the IJGlobal Awards 2022.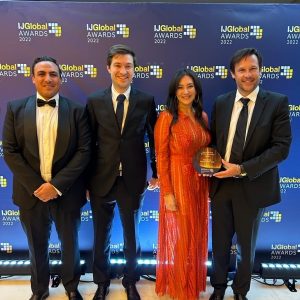 A truly innovative and trailblazing endeavour, the Zayed City Schools project is the first PPP procurement in the UAE education sector. BESIX is playing a significant role in this project, participating in the financing, design, procurement, construction, commissioning, and 20-year operations and maintenance of the three school campuses with a total capacity of 5,360 students. By combining our expertise as an industrial equity provider with our engineering, procurement, and construction skills, we can ensure the project is completed on time, within budget, and to the highest quality standards.
The design and construction of the schools are guided by the principles of academic excellence and environmental sustainability. School campuses will offer modern, innovative, and technologically advanced learning environments and facilities. With construction already underway, the schools are expected to be completed by August 2024 and welcome their inaugural class of students in September 2024.
The IJGlobal Awards celebrate and recognize outstanding infrastructure projects globally across various sectors and regions. The projects are evaluated based on criteria such as innovation, execution, sustainability, financial structure, and social impact.
Winning an IJGlobal Award is a significant achievement, especially in a highly competitive and complex infrastructure market. As we celebrate this remarkable accomplishment, and continue working on this ground-breaking project, let us acknowledge all those involved for their dedication, determination, and enthusiasm, as well as their embrace of innovative ideas and pursuit of excellence, sustainability, and social responsibility.
Congratulations on this well-deserved win!
Follow us on Twitter
Share this page