BESIX is awarded a new BOT contract in the waste-to-resource sector in Dubai
Summary
Dubai Municipality has awarded BESIX the contract to build, finance and operate the Al Qusais Landfill Gas-to-Energy project in the United Arab Emirates;
The facilities will produce sustainable energy and prevent environmentally harmful landfill gas from escaping into the atmosphere;
The project strengthens BESIX's leading position in the waste-to-energy market in the UAE and confirms its expertise in the sustainable recovery of both organic and non-organic solid waste.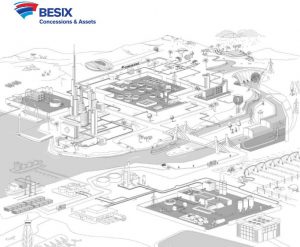 BESIX will build, finance and operate for 16.5 years renewable energy production facilities at Al Qusais, Dubai. The Landfill Gas-to-Energy contract was awarded to BESIX by Dubai Municipality.
The project consists of capturing the gas from the Al Qusais landfill and treating it to produce electricity. This recovery of methane, which is produced by the decomposition of organic fractions, is all the more sustainable as it prevents this environmentally harmful gas from escaping into the atmosphere.
The proposal submitted to Dubai Municipality has been made in cooperation with Green Energy Solutions and Sustainability L.L.C., a regional expert in the degassing of landfills.
Once completed, the facilities will comprise a network of 22 to 24 km of pipes and will have a production capacity of 12 MW.
The project is part of the Dubai Municipality Strategic Plan for an integrated waste management and its ambitious environmental objectives. It is also in line with the United Nations Environment Programme (UNEP) regarding solid waste management.
Environmental expertise
In recent years, BESIX has become a leading player in the wastewater treatment and waste-to-resource sectors in the Gulf region. In addition to design and construction, the group offers financing, operations and maintenance services through public-private-partnerships.
In the waste-to-energy sector, its current activities include the Dubai Municipality's Thermal Waste Recycling Plant, the world's largest waste-to-energy plant. The project is in the final stages of financing and an early mobilization on site is foreseen in early 2020.
The facility will be operated by BESIX and Hitachi Zosen Inova. Other projects include the development and operations of a Refuse Derived Fuel facility by Emirates RDF (BESIX – Tech Group Eco Single Owner Holding – Griffin Refineries) in the Emirate of Umm Al Quwain, whose production will partially replace the use of fossil fuels in cement plants.
About BESIX
BESIX is a leading Belgian group, based in Brussels and operating on five continents, primarily in the construction, real estate development and concessions sectors. Iconic projects include Dubai's Burj Khalifa, the world's tallest tower, buildings of the European Parliament in Brussels and the Grand Egyptian Museum, on the Giza Pyramid Plateau.
BESIX carries out major environmental projects. Ongoing works include energy-neutral infrastructure, notably transport infrastructure and sewage treatment plants. The group also develops water recovery and waste recycling facilities in the European Union and the Middle East.
The group's in-house Engineering Department enables BESIX to realize unique, highly complex projects, particularly in terms of technical and environmental aspects.
Benoit Vadani, Vice President Business Development: "BESIX is particularly honoured by Dubai Municipality's renewed confidence in our group's environmental expertise. This project strengthens BESIX's leading position in the waste-to-energy market in the UAE. Our group now operates energy recovery facilities for both organic and non-organic solid waste, two complementary and sustainable activities."
Follow us on Twitter
Last week, no less than two BESIX projects received one of the prestigious MIPIM Award in Cannes! ✨ 🏆 Sluishuis -…

https://t.co/eDiJp4Hz5h

We are proud to announce the global launch of our new digital solution for QHSE processes, OASIS. ✨ It brings toge…

https://t.co/qPp81yk4gO
Share this page